ReefBot Lab
Pre-Order Now!
Click on "Add to Cart" to Pre-order your ReefBot Lab on a discounted price!
Price excludes Shipping fees, Custom Fees and any Duty Fees.
Expected Delivery Date is within 2 Weeks and 2-4 Weeks when pre-ordered.
The ReefBot Lab is the latest ReefBot model with enhanced design and features, including 12 vials for more testing options.
The ReefBot Lab measures the levels of the most common tank parameters: Alkalinity (KH), Calcium (CA), Magnesium (Mg), Nitrate (NO3), Nitrite (NO2), Phosphate (PO4), Ammonia (NH3), Copper (Cu), Iodine (I2), Iron (Fe),  pH, pH High Range, pH Wide Range, and General Hardness (GH). Test kits brands and parameters are added regularly and you may ask for a certain test kit to be made compatible with your device by contacting [email protected] that will study the feasibility and add it upon request.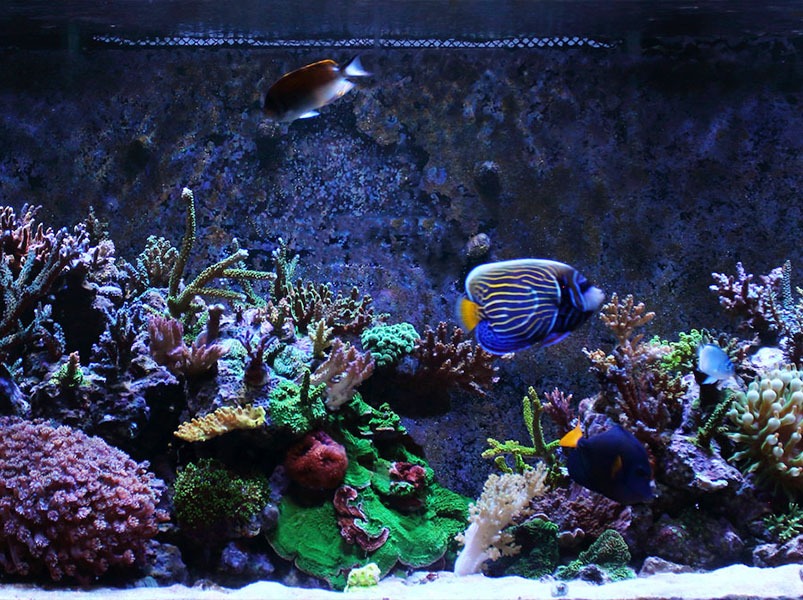 Monitor your tank parameters
ReefBot Lab uses reagent-based method to autonomously measure the levels of the parameters in your tank. It currently measures Alkalinity (Alk), Calcium (Ca), Magnesium (Mg), Nitrate (NO3), Phosphate (PO4), Nitrite (No2) , Ammonia (NH3), Copper (Cu), Iodine (I2), pH, pH High Range and General Hardness (GH) with more parameters added regularly.
Supports multiple test kits
ReefBot Lab is configured to work with reagent test kits available on the market from the following brands: Salifert, Elos, Red Sea, Geismann, Tropic Marin, Fauna Marin, API and Colombo. Changing kits is as simple as selecting a brand and parameter on the mobile and web application.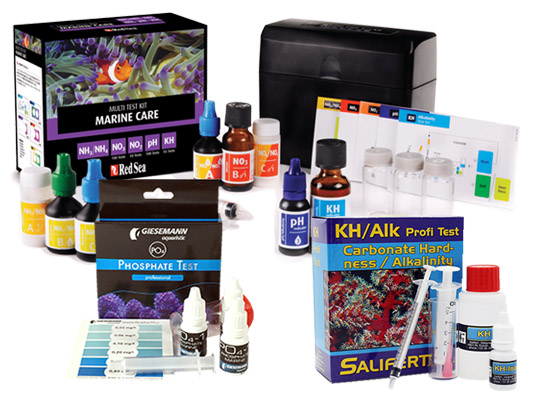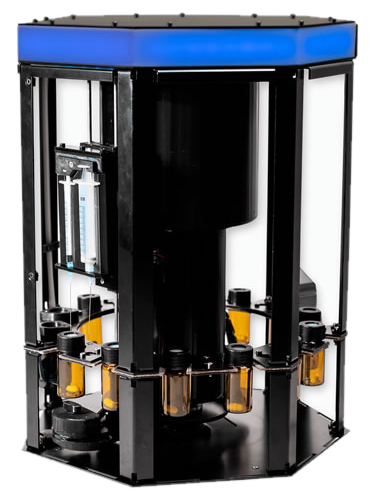 Design – A whole new sept-agonal design with new mechanics that offers enhanced performance and faster results.
Reagent Slots – More is always better, yes, the ReefBot holds 12 reagent slots.
New Actuator – The new actuator is faster and has a smaller resolution than the original ReefBot.
More Precision – The ReefBot Lab is more precise in testing, supporting higher resolution titration tests, with a precision of 0.001 microliter (1μl).
Reagent Access – The new mechanism allows the needle to reach the bottom of the vial for maximum reagent usage
Reset Button – A reset button was added to give more flexibility and control over the Lab operations.
Quieter – The ReefBot Lab is ever more silent as we are trying to keep your testing as smooth as possible.
The ReefBot Lab can be installed on any tank by simply immersing the inlet tube in the tank and connecting two tubes to RODI and waste containers or by placing the sample water inside a vial.
It connects to the internet through any wifi or ethernet network.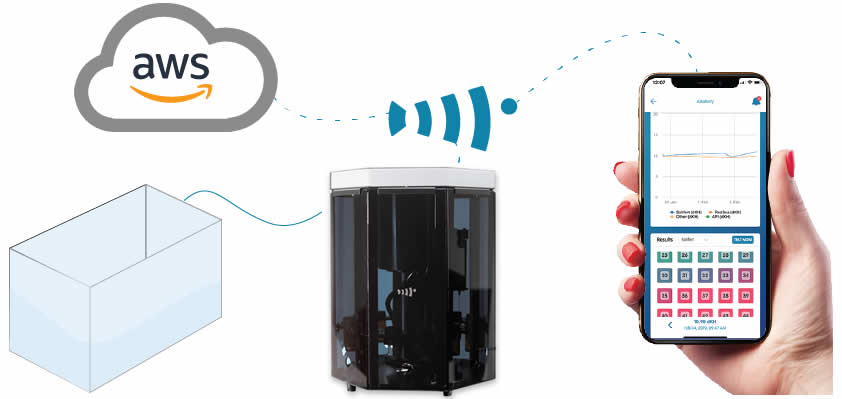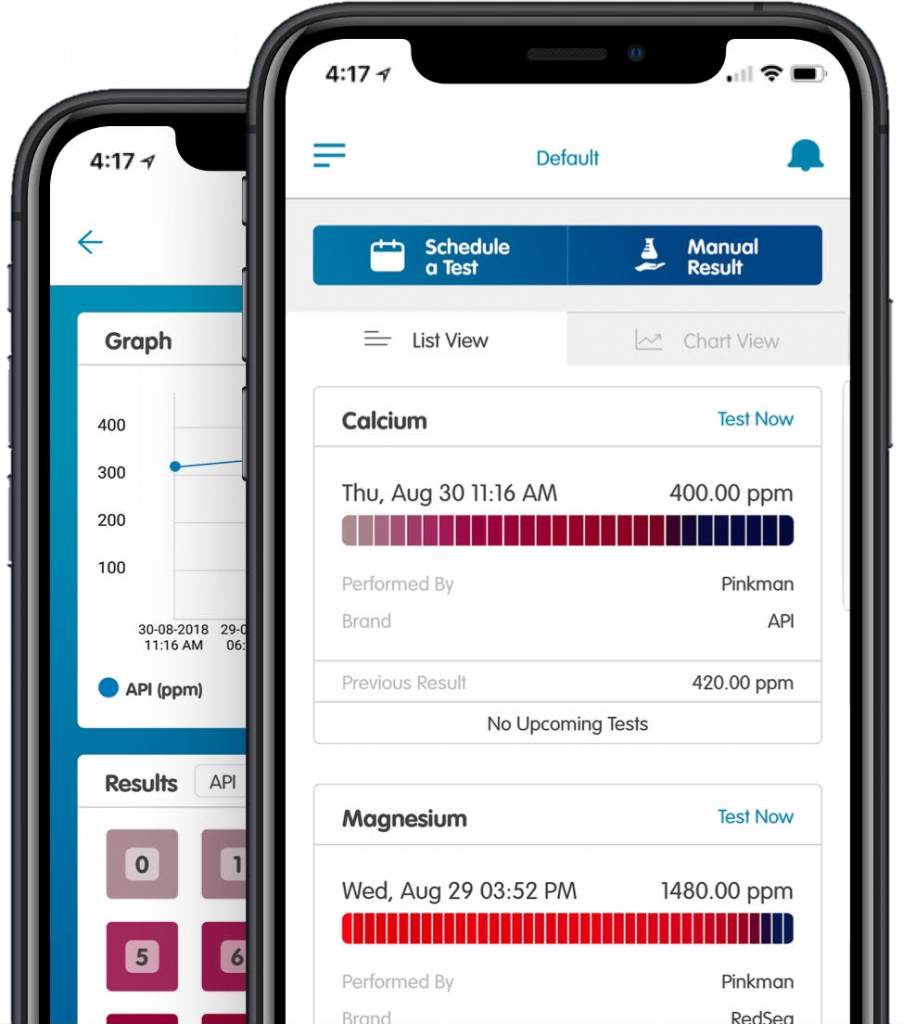 Automated testing of Alkalinity, Calcium, Magnesium, Nitrate, Phosphate, Nitrite, Ammonia, Copper, Iodine, pH, pH High Range, General Hardness and more.
Easy installation on any tank, connects through wifi or ethernet.
ReefBot Lab is supplied with a 2 meters – 78.7″ tube to connect to your tank.
Our glass vials are 20ml. In some cases, you would need more than one test kit to fill the vials. 60ml vials are also available separately.
Schedule tests and receive alerts from anywhere through mobile, smart watches and web app.
Compatible with reagents from Salifert, Red Sea, Giesmann, Elos, Tropic Marin, Fauna Marin, API, Colombo, JBL, NYOS, Sera, Monitor, NTLABS and more.
Easy maintenance.
Package Weight: 440 oz (12Kg)
Package Size: 19.3″ x 16.5″ x 16.5″ (49 cm x42cm x42cm)
ReefBot Lab dimensions: 17.3″ (Depth) x 12.5″ (Width) x 12.5″ (Height) (44cm x 31cm x 31cm)
Power Supply: 100- 240V
Connectivity: Wifi/Ethernet
Reagent Slots: 12
In the Box: 1 ReefBot Lab – 12 glass vials – 1 power supply – 3 tubes – 15 magnetic stirrers – 1 calibration kit – 12 vial labels – 5 needles – 5 sampling syringes – 2 dosing syringes
Frequently Asked Questions